GE Replacement Guide: Find your existing GE Zoneline, Vertical (VTAC) or PTHP unit in the left column and click on the Islandaire replacement unit on the right. If you do not see the unit you're looking for on this list or in our catalog, please consult the factory; we can custom design a unit for you. Note: For shipping purposes, please assume that a one piece chassis typically weighs 150 lbs, and a two piece, 200 lbs.
| | | | |
| --- | --- | --- | --- |
| Original Model | Sleeve Height (Inches) | Sleeve Width (Inches) | Islandaire Model |
| GE® Zoneline Deluxe | 16 | 42 | |
| GE® Type AJ 26″ | 16 | 26 | |
| GE® Vertical 7500/8500 Series | 23 | 23 | |
Why choose Islandaire before the GE Zoneline PTAC?
Designed for a wide range of applications, GE Zoneline units are ideal for hotels, nursing homes, office buildings, schools, apartments and more. The GE Superseal system that reduces air infiltration and increases efficiencies has been expanded upon with Islandaire's standard seal system. In addition, Islandaire has succeeded in a lower sound level in comparison to the Zonelines by using superior parts and not cutting any corners.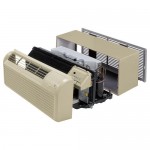 Like all GE Zoneline PTACs, Islandaire units feature electronic touch controls with LED temperature readout and are remote thermostat capable right out of the box. Just connect the thermostat wire to the Islandaire control board and you're all set. The Zonelines' "Freeze Sentinel and Heat Sentinel" are a standard feature on Islandaire units to protect against extreme heat or cold conditions, should the room get too cold or hot. This protects the unit's compressor from damage due to excessive temperature changes.